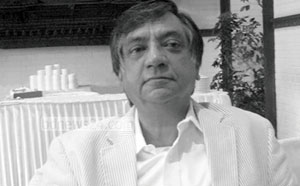 The Loss and Legacy of Dr. Wasim Zaman
It was with great sadness that our office was notified of the tragic death and loss of one of our dearest and long-time clients.
For many years I welcomed his kind and gentle words of encouagement, as I dealt with the challenges that life often presents to us on a professional and personal level. I remember his compassionate support to the challenges that came with transitioning my 90 year old father from his home in Florida to living with my family in Massachusetts.
It is with the utmost respect to his memory that I have present news of his brutal slaying and some words from those who were blessed to have Wasim in their lives.
Wasim Zaman was the Central and South Asia head of the United Nations Population Fund (UNFPA) based in Kathmandu from 1999-2004. He was very popular among officials and activists in the region, as well as his large Nepali and expatriate social circle in Kathmandu. After retiring from the UN, Wasim had joined the Kuala Lumpur-based International Council on Management of Population Programmes, and was on mission in Kabul to help the UNFPA Afghanistan Country Office with the agenda for the International Conference on Population and Development that was scheduled later in the year in New York. 

A savage attack carried out by the Taliban at the Serena Hotel on March 20, 2014, came two weeks before Afghanistan's presidential election. Eventhough the Serena Hotel had several layers of security, the clean-shaven, juvenile gunmen smuggled tiny pistols in their socks and waited for the restaurant to fill up for a Afghan new year dinner before shooting people as they sat their tables. Wasim was among the nine victims who tragically lost their lives in this senseless and cold blooded act.

At a memorial in Kabul, one of his colleagues said: "Wasim showed exceptional kindness, generosity, was warm and caring nature towards each and every person...he had a deep interest in politics and a constructive spirit to take on tough issues and seek solutions. He had an amazing network well beyond what his work required with artists, historians, writers, politicians, world leaders and activists."

Jill Sheffield, President of Women Deliver, received the news of Dr. Wasim's passing with a heavy heart; "We remember him for his steadfast advocacy and dedication to improving girls' and women's sexual and reproductive health in the Asia-Pacific region and beyond, and we will work to honor the legacy he has left behind."

Wasim Zaman was planning to retire at the end of 2014 and devote more time to his family.